The Asset Management division's tasks are performed by the following three organisational units: Authorisation, Supervision of Institutions and Products and Legal Expertise. In addition to the Financial Market Supervision Act as a framework law for financial market supervision, the Collective Investment Schemes Act (CISA) provides the legal basis for the activities carried out by the Asset Management division.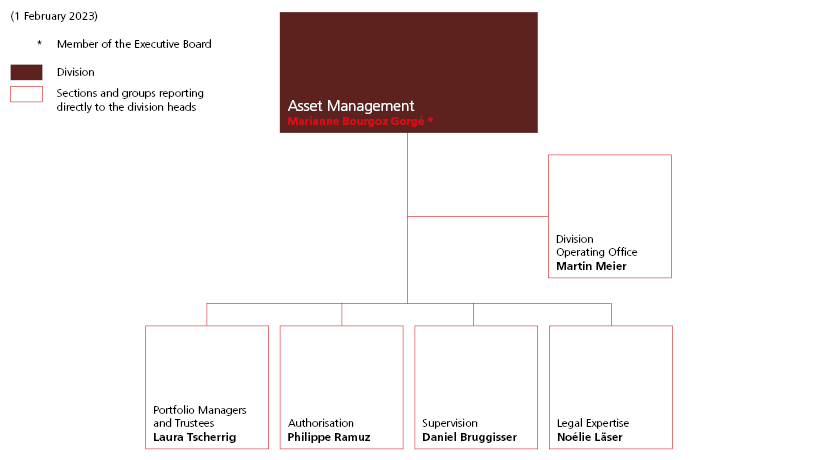 Broad range of institutions and products subject to CISA
Institutions such as fund management companies, asset managers of collective investment schemes, custodian banks, representatives of foreign collective investment schemes and distributors, as well as Swiss collective investment schemes such as contractual investment schemes, investment companies with variable capital (SICAVs), investment companies with fixed capital (SICAFs) and limited partnerships for collective capital investment schemes (LPCIs), are subject to the Collective Investment Schemes Act. This is also the case for foreign collective investment schemes distributed to non-qualified investors in or from Switzerland or distributed to qualified investors in Switzerland. In accordance with Article 132 CISA, FINMA grants the licences and authorisations required under this act. At the same time, it monitors compliance with legal, contractual, statutory and regulatory provisions. The Collective Investment Schemes Act, the Collective Investment Schemes Ordinance (CISO) and the FINMA Collective Investment Schemes Ordinance (CISO-FINMA) govern the licensing and authorisation requirements.