The Strategic Services division employs a range of specialist teams.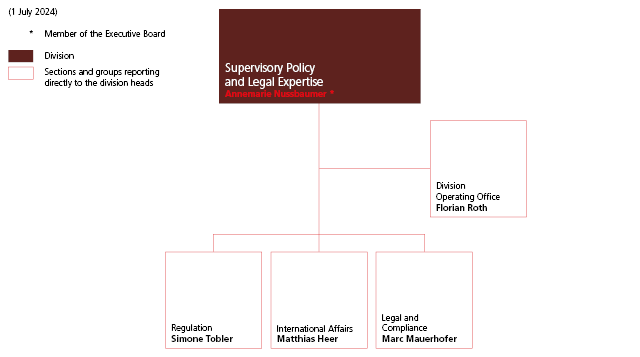 International Activities
The International Activities group is the central point of contact for FINMA's international activities. In addition to the management and coordination of international bodies and maintaining contact with foreign supervisory authorities and relevant EU organisations, this group is also responsible for the negotiation of international agreements.
Regulation
The Regulation group is responsible for managing, reviewing and developing the areas of financial market regulation relevant for FINMA and the coordination of ongoing FINMA regulation projects. This group also supports the divisions in drawing up new regulations such as FINMA ordinances and circulars.
Legal and Compliance
The Legal and Compliance group is responsible for regulations, FINMA's central contract and procurement management and the implementation of the code of conduct, which applies to all FINMA staff and ultimate management. It handles all of the supervisory authority's legal issues and is responsible for liability procedures. Legal and Compliance also assumes responsibility for releasing FINMA staff from official secrecy requirements and for issuing records to domestic authorities.
Accounting
The Accounting group is responsible for the integrated handling of all accounting issues at FINMA. In performing this function, it advises and supports the other divisions on national and international accounting standards either issued by FINMA or applied by the supervised institutions. In addition to its in-house advisory function, this group is also the point of contact for external accounting-related enquiries.
General Secretariat and Communications
The General Secretariat and Communications section organises FINMA's Board of Directors and Executive Board. The General Secretariat also cultivates FINMA's relations with the Swiss Federal Council, the Federal Department of Finance and the General Assembly, along with other political players. This unit also coordinates FINMA's responses to enquiries from journalists, the public, parliamentarians, government bodies and authorities, while its communication specialists cover the entire range of internal and external communication tasks

Its broad-based area of responsibility sees the Strategic Services division provide support to the management of FINMA and the other divisions and make a cross-sector contribution to the development of the supervisory authority.