Self-regulation involves private organisations setting rules autonomously or in cooperation with the state. It constitutes a means of reconciling the frequently diverging interests of the organisations in question and those of the state. Self-regulatory regimes exist in the following segments of Swiss financial market legislation:
The different types of self-regulation
FINMA distinguishes between three types of self-regulation:
voluntary self-regulation on a private, autonomous basis without state involvement
self-regulation recognised as a minimum standard
compulsory self-regulation.
The state plays a role in the latter two types, which are therefore also referred to as co-regulation; both come under FINMA's supervisory remit.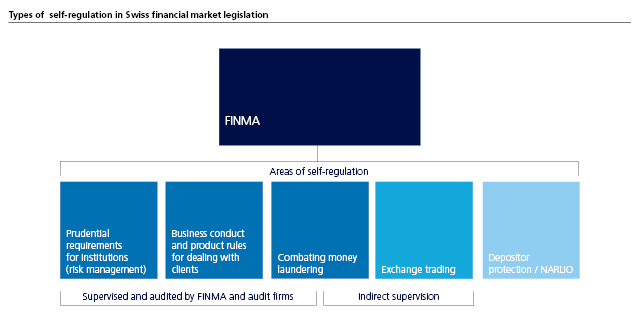 FINMA's remit and role in self-regulation
The Financial Market Supervision Act (FINMASA) expressly anchors self-regulation in the law (Art. 7 para. 3 FINMASA). FINMA thus supports self-regulation and allows it sufficient scope where this is deemed to be appropriate.
Recognition as a minimum standard
Article 7 para. 3 FINMASA allows FINMA to recognise self-regulation as a minimum standard. These standards then apply not only to members of the self-regulatory organisation (SRO), but also to all other organisations in the sector. Compliance with recognised minimum standards is enforced by FINMA or the SROs.