In the event of a disorderly failure, systemically ­important financial institutions can jeopardise ­entire economies and are therefore referred to as "too big to fail" (TBTF). Following the financial crisis of 2007/2008, the Swiss legislator promulgated special rules for the stabilisation, restructuring or liquidation of such institutions. The rules require higher capital and liquidity buffers as well as plans for recovery and resolution. There are four main instruments in this context:
Recovery plan: The systemically important bank or financial market infrastructure sets out how it would stabilise itself in a crisis. This plan requires FINMA's approval.


Swiss emergency plan: In this plan the systemically important bank details how it would ensure uninterrupted continuity of its systemically important functions in Switzerland (particularly access to deposits and payments) in a crisis. FINMA must review this plan and evaluate whether it is ready to be implemented if necessary.


Resolution plan: FINMA produces a global resolution plan for Credit Suisse and UBS. This indicates how the entire global group would be recapitalised, restructured and/or (partially) liquidated in a crisis. Resolution plans are also required for the domestic systemically important banks and systemic financial market infrastructures. FINMA assesses the resolvability of an institution on the basis of whether the preparations of the institution are sufficient to successfully implement the plan if necessary.


Rebates: FINMA can grant UBS and Credit Suisse rebates on certain components of the capital requirements if they have made significant improvements in their global resolvability.
The two global systemically important banks were required to submit an effective emergency plan to FINMA for review by the end of 2019. This makes it a suitable point in time for FINMA to inform publicly about progress. At the same time, FINMA sets out in this document how it would proceed in the event of a resolution.
Recovery plans have been approved and the global banks' Swiss emergency plans are effective
All five systemically important Swiss banks have submitted recovery plans to FINMA, which have been approved. FINMA carried out a detailed review of the effectiveness of the Swiss emergency plans submitted by the end of 2019. At Credit Suisse FINMA deems the statutory requirements for a ready-to-implement emergency plan to have been met. FINMA also regards UBS' emergency plan as effective but has qualified this assessment on account of financial interdependencies within the group that UBS is required to rapidly reduce further.

The emergency plans of the three domestic systemically important banks had reached various levels of readiness at the end of 2019, but none of them is deemed to be fully ready for implementation. At ZKB further build-up of capital and liquidity resources is required. Raiffeisen and PostFinance also have further work to do, particularly on producing plans to build up the loss-absorbing capacity required for recapitalisation in a crisis.
Global resolution plans: work in progress
FINMA has drawn up a global resolution plan for both of the largest Swiss banks setting out its primary resolution strategy. Unlike the Swiss emergency plan, the resolution plan for the large banks relates to the entire banking group and is hence referred to as "global". Both banks have taken important preparatory steps and have thus made considerable progress with respect to their global resolvability. In particular, FINMA views the requirements for a reduction in structural interdependencies as being fulfilled, specifically through the establishment of holding structures and Swiss subsidiaries. In other areas, particularly the provision of the necessary liquidity in the event of resolution, the regulatory and implementation work is still in progress. In addition, individual aspects of the resolvability of the two global banks are assessed in an annual rebate process. As in the previous years, both banks managed to improve their global resolvability in 2019. Credit Suisse has now reached 40 percent of its rebate potential and UBS 42.5 percent.
In contrast to the two global banks, the resolution plans of the domestic systemically important banks are not global and like their emergency planning relate purely to their Swiss business. These resolution plans are therefore very closely related to the emergency plans and do not require the banks to adopt any material additional preparatory measures.

Overview of the progress of work (as at the end of 2019)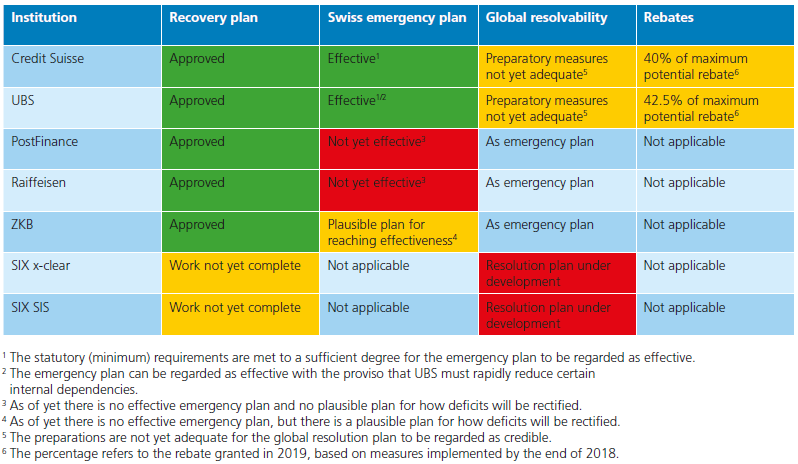 Recovery and resolution planning of financial market infrastructures under way
Systemically important financial market infrastructures must set out in a recovery plan the measures they will use to ensure their stability in the event of a crisis, so allowing them to continue their systemically important business processes. Both financial market infrastructures designated as systemically important in Switzerland (SIX x-clear, the clearing provider and central counterparty, as well as SIX SIS, the central securities depository) have recovery plans in place. The plans have been continuously improved. Due to the high standards for these plans, further improvements are needed before they meet the conditions for approval. FINMA has also commenced work on developing resolution plans for SIX x-clear and SIX SIS.